See on Scoop.it – M-learning, E-Learning, and Technical Communications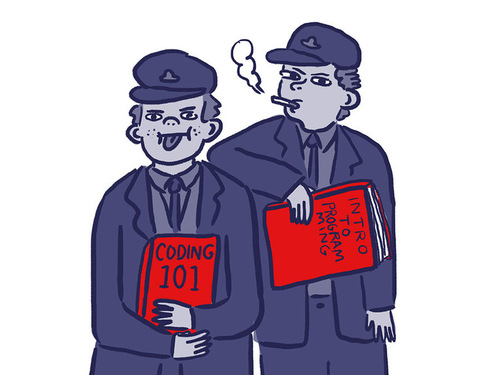 The British Government just put America to shame by mandating a programming curriculum in all primary and secondary schools. The UK Department of Education has been fiddling with the idea for awhil…
Danielle M. Villegas's insight:
This is a very hot topic to me. When I took a proposal writing course last summer, I chose to write a (fake) proposal seeking funding for initiatives to teach 3D printing at my son's school. While doing the research on STEM curriculum initiatives to support my project proposal, there were a lot of articles about the UK curriculum changes to add more STEM topics to school curriculums starting at the kindergarten level, including the basics of computing and coding. I agree with this article that I don't understand why bigger initiatives aren't being brought to the forefront to make this happen in the US–or anywhere, for that matter. It was just a little bit of coding that I had learned as a child, and a little bit that I learned as an adult that helped me get to where I am today. I am not a developer, but I understand how computing works, and that helps me immensely as a technical communicator.
Having a digital education doesn't mean only understanding how to use a laptop or tablet. It means also understanding how it works, and how to make it work–or at least have an understanding of how it works enough to respect what full-fledged developers do. If any country is going to get ahead, it needs to start now.
I grew up when personal computers were just becoming mainstreamed. I remember my father bringing home an Apple II from work, and I learned some BASIC to draw pictures and such. I didn't learn elementary HTML until 15+ years later–and that was 17 years ago. My son is very used to having computers around him due to having computing parents. He thought one of his friends was "poor" because they didn't have a laptop or desktop out for everyone to use, or at least each person didn't have their own, like we do. (For my husband and I, we both brought our own desktops/laptops into the relationship, and then inherited another machine we let our son use. So, no, we aren't rich. LOL). But he's very used to being around computers. Not all kids have this advantage, and yet in this day and age, they should.
So, BRAVO to the UK for its forward thinking and initiative. It's going to be a big adjustment, and it'll be a lot of work to keep up with ever-moving technology, but it'll be advantageous to its student population in the end. The rest of the world needs to catch up.
–techcommgeekmom
See on pando.com