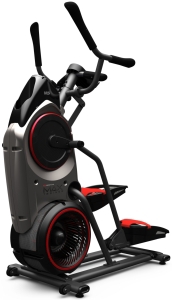 Back in February, as we were essentially trapped in the house due to the extra mountains of snow that got dumped on NJ, my husband and I realized that we needed some way to exercise. We both have sedentary jobs, and we're busy parents, so it's hard to squeeze in that much time for ourselves during the day. I also have issues with many forms of exercising due to my asthma and joint issues (leftover from injuries in past years) that require that I need to do something that's easier on my joints. We also didn't want to go to a gym, or have to trek through bad weather to get to one, and decided that we wanted to invest in some sort of exercise equipment beyond the Total Gym that we own– something that would promote aerobic exercise. After careful research and shopping, we decided to invest in a new piece of equipment by Bowflex called the MAX machine, which is hybrid between a stair-stepper, elliptical, and skiing machine.
It turns out that this MAX machine had been released as a new product in December 2013, and ended up being more popular than Bowflex anticipated. So in early February, as we ordered the product, we had been forewarned on the website that it would take about 45 to 60 days to ship. We weren't happy about that, but we figured that it'd be worth the wait. Six to eight weeks isn't TOO awful, and we were getting free shipping due to a coupon.
During our wait, we've received two "update" emails that really didn't tell us anything. The subject line would say, "Update, and something free for you," but it would not give us any update about our order, but rather some free nutritional or diet information.  On the bottom of each email, next to the "unsubscribe" link, a warning told you that if you unsubscribed, then you wouldn't get any update information about your order. Well, gee. I don't want information about the nutritional stuff, but I don't want to miss out on something that might come through about my actual order, so I'm stuck with these.
Seven weeks have passed, and my husband is getting anxious and impatient. "Where is it? You did get a receipt for it, right? Do you have an order number?" he has been asking me. To settle things, since the website itself would not yield any information about my specific order other than I placed the order, I made a call to the company.  I explained that the 60 day mark was approaching–is our order almost ready? "Oh, dear, I'm sorry– it's 45 to 60 BUSINESS days," the customer service operator cooed, in the same sort of tone as a Southerner muttering, "Bless her heart."
Now, understand first, I'm no dummy, not when it comes to consumer matters. The first three years of my career were working for two companies doing the same thing as this person–being on the other end of a toll-free hotline, answer questions about anything from baking soda to toothpaste to detergent to over-the-counter drugs including laxatives.  My career made a segueway into IT-related fields because I transferred those customer service skills to client services skills, which eventually landed me at a dot-com, and I had the computer savvy to work my way out of client services into content management. So, it takes a bit to pull the wool over my eyes. I KNOW that website didn't say "45-60 business days" when I ordered. It might say it now, and they might claim that it's been up there the whole time, but that's something that I would remember very clearly.
So, after getting off the phone, I decided to take out my frustrations and make a bit of a stand. I posted my views on Twitter to bring this situation to light. It took four Tweets, and in 140 characters for each tweet, I was able to state my disgruntlement to the whole world:
@bowflex sucks. Ordered MAX machine in Feb. Told 45-60 days to ship. Website didn't say BUSINESS days when I ordered. Will ship in MAY. 😦
@bowflex must've update website in meantime. I only get "we're still here, & here's nutrition info while you wait" info from them. Useless.
What would be more helpful from @bowflex would be "it's 3 wks until shipping", "It's 2 wks until shipping" notices instead. This cost me $$
Bad logistical planning on @bowflex's part, & bad customer service. This machine better be worth the wait & the $$$. Better comm needed.
Oh yes, I knew what I was saying. Hey, I was angry! But I knew that from the first tweet with "bowflex sucks", I would get their attention. I did receive two tweets back which I didn't see right away, but I would swear that within 20 minutes or so, I suddenly had a phone call from…yep, you guessed it, Bowflex.
It was a civil conversation–I didn't go all Jersey Girl on the gal who called me. Obviously, they weren't too happy with "bowflex sucks" and apologized for the delays and the customer service. I explained that the first person I talked to was professional, and she did nothing wrong, but I didn't like the answer, even if she was just the messenger. I was positive that "business days" was not spelled out when I put the order in, nor was it in any of the correspondence, or on the website, and I explained my disenchantment with the updates, since they clearly did not yield any information about my order.  All I wanted was transparancy about my order, is that so much to ask? I explained that this was a communications disaster, coming not only from the perspective as a consumer, but also as a technical communicator. The website was bad, at least as far as the follow-up and ordering part was concerned, and I just wanted better communication with the company. At the end of the conversation, I felt that I was heard, an apology was made, and an extra discount was scored, which was welcomed. I wasn't looking for the extra discount (not that I wouldn't take it), but a consumer shouldn't have to ask for such basic information. It doesn't have to be exact, but it does have to be clear.
Case in point–I had recently ordered something much smaller from a company on eBay. eBay said that the package was estimated to arrive on a Wednesday, and generally packages took five to nine days to arrive once it shipped. Well, my package arrived a day too late for an event on day 10, but it was still close that I can't be as angry about that. This issue with Bowflex was VERY expensive and taking much, much longer, and I wasn't even getting an estimate that we were even getting close to a potential shipping date. I was just getting free diet plans instead.
I tend to think that I wouldn't have gotten a phone call if the social media person hadn't seen that I have over 800 followers on Twitter. I'm sure that's what prompted the call rather than hashing it out online. That's okay. But to me, it still proves that there is significant power in the use of social media. People are using it. People do see these tweets. Companies understand the potency of one malicious tweet.
I was invited to follow the company on Facebook and direct-message them on Facebook if I had any further questions. Ironically enough, I went to the page, "liked" it, and then saw that within the last week, other consumers who had purchased their MAX machines in January either just got them (within 60 days–not business days), OR that someone had ordered it in January or February, and they were given the same line about the "business days" and said it wasn't there when they ordered their machines. I felt validated that it wasn't just me–it really wasn't, so it seems! The power of social media was at work again, showing that I wasn't wrong, and that Bowflex was trying to cover up the problems.
Don't get me wrong–I'm still looking forward to getting my MAX machine. And I'm sure I'll be a Bowflex convert once I get it.  The real lesson in all of this is two-fold. First, the company's content–which includes its email notifications and its ordering website–are lacking. A consumer can't get full disclosure about their expensive products, when a company that is as big as Bowflex/Nautilus should be much more robust. The second part of this proves that social media is a very powerful medium. It has the power to message the world and influence at an instant, in 140 characters or less.
As technical communicators, it's our jobs to help make sure, through the web content that we help write and through the social media messages we send, that the message that we want to send out on behalf of either ourselves or our clients is a clear, concise, informative message.  It seems to me that somebody at Bowflex/Nautilus is asleep at the wheel, and I'm sure it's not just for this product alone. The person who is handling their social media at the moment should be applauded, as I'm sure she's going through one hell of a time dealing with disgruntled consumers like myself, and staying positive in the process. (Give that gal a raise, Bowflex.) She's merely the messenger, and it's a hard job, especially in customer service. (Like I said, I've been there, I know.)  Our job as technical communicators is really to help make life a little easier for the customer service department by giving them good information, and reducing call volumes because most of the information should be available online, especially if you did your shopping online.  Two phone calls in one day shouldn't need to happen.  Something in the pipeline broke, but it wasn't the social media person, and it wasn't the customer service person. I'm just sayin'.
So, Bowflex/Nautilus, if you need a technical communicator who has your best interests at hand both as a consumer and a content analyst, let me know. I might be able to help.