See on Scoop.it – M-learning, E-Learning, and Technical Communications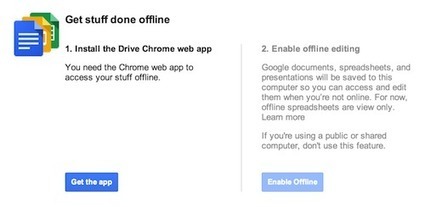 Does chromebook work offline. chromebook offline features, offline chromebook apps, chromebook google docs offline, and chromebook offline document editing
Danielle M. Villegas's insight:
Chromebook is a laptop alternative to traditional laptops, as that it's lightweight, wi-fi enabled, runs on Google's OS instead of Windows or Mac's OS or Linux, and is highly affordable. Since most of its functions are highly dependent on wi-fi internet connectivity, my husband and I recently questioned if getting a Chromebook is a viable option for someone who spends a lot of time on the Internet for doing work, especially if wi-fi isn't available for some reason. (We're not in the market to get a new notebook for either of us, but we saw these at our local Best Buy store ,and we were curious.)
This article shows how one can still be productive offline while using a Chromebook. So now, I know. Interesting article.
–techcommgeekmom
See on www.chromestory.com